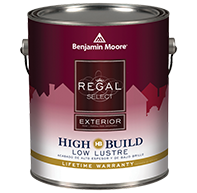 Regal Select Exterior High Build is a premium waterborne acrylic paint tinted on our proprietary Gennex colorant system. It offers a thick, high-build formula engineered for optimum hide and fewer coats. With easy application by brush or spray, this coating offers excellent flow and leveling and the superior performance you expect from the Regal name for your exterior projects.
FLAT
FEATURES: 
Durable exterior paint with superior adhesion and resistance to chalking
Excellent flow and leveling for easy application
Mildew and fade resistant even in humid conditions
Low temperature application (to 40° F) extends the painting season
Ideal when you need:
Advanced alkyd technology for superior adhesion even to chalky substrates
A Flat finish for a smooth, non-reflective finish that hides imperfections while delivering an ultra-smooth appearance.

LOW LUSTRE
FEATURES: 
Durable exterior paint with superior adhesion and resistance to chalking
Excellent flow and leveling for easy application
Mildew and fade resistant even in humid conditions
Low temperature application (to 40° F) extends the painting season
Ideal when you need:
Advanced alkyd technology for superior adhesion even to chalky substrates
A Low Lustre finish that's lightly reflective and smooth sheen that offers a rich appearance

SOFT GLOSS 
FEATURES: 
Durable exterior paint with superior adhesion and resistance to chalking
Excellent flow and leveling for easy application
Mildew and fade resistant even in humid conditions
Low temperature application (to 40° F) extends the painting season
Ideal when you need:
Advanced alkyd technology for superior adhesion even to chalky substrates
A Soft Gloss finish that's shiny and durable – great for windows, shutters, doors and other trim work